Exhibit / Advertise / Sponsor
2008 Merchants &amp: Exhibitors Info
Welcome to the Offical Website of ConEvents LLC
Thank you for your interest in exhibiting at Phoenix ConGames 2008, being held on June 12th - 15th, 2008 at the Mesa Convention Center. The convention provides an opportunity to meet with gamers from all over Arizona and the US.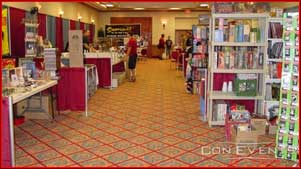 EXHIBITOR INFO
ADVERTISING &amp: SPONSORSHIPS
ITEMS OF NOTE:
Previous merchants are given the first opportunity to choose booths (based on Priority Points). However SPACES ARE ASSIGNED ON A FIRST COME, FIRST SERVED BASIS. Please understand that our Exhibit Hall tends to sell out very quickly, and choice spaces will go fast.
The fastest way to reserve a spot is by calling us with a credit card and then mailing in the exhibitor form.
Dealers may get up to 4 booths (a quad). However, a $100 non-refundable deposit is required per booth at time of reservation to reserve booth space for 2008. Remaining payment is due within 60 days of reservation. (For those registering later, "Late Reservation" rates are based on date of full payment, not reservation date)
Booths are non-refundable after December 31st, 2007.
Phoenix ConGames begins at 9:00 am on Thursday, and ends Sunday 7:00 pm. Exhibit Hall Hours are Friday and Saturday, 9:00 am - 6:30 pm and Sunday 9:00 am - 2:00 pm
Setup Hours are Thursday from 1:00 pm - 10:00 pm. Exhibitors will be allowed into the room 1 hour before it opens and 1 hour after it closes. NO ONE WILL BE ALLOWED INTO THE EXHIBIT HALL AFTER HOURS.
Events are scheduled in time blocks to ensure there will be breaks during the day during Exhibit Hall hours. During those breaks we will be holding events of interest in the Exhibit Hall to increase overall traffic. Please let us know if you would like to add to those attractions by holding raffles or events of your own that we can advertise to bring more attendees into the room.
All the forms and information on the exhibitor hall are included as links below. Please download and review the Main Exhibitor Pack (P08-000) to start.
Sincerely,
Mary B. Erickson
Exhibiting & Marketing Coordinator
Mary@ConEvents.com
480.835.9102